Those People teamed up with award-winning producer Bill Moriarty and mastering engineer Brian Lucey in 2014 to record the EP "Be Careful What You Wish For."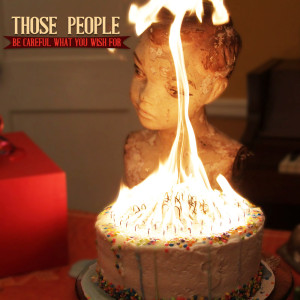 The EP explores the traditional rock tropes of loud, banging, sing-along-choruses, and dirty guitars, while also delving into and playing with vocal harmony, and interlaced guitar and keyboard parts. Lyrically, "Be Careful What You Wish For" is in one turn cautionary and reflective, and then in another, whimsical and allegorical in songs such as Sylvia, Fix This, God Is Drinking, and Margaret Long. The band turns things down for Winter in Space with a sad carousel guitar jangle and three-part vocal harmony that waltzes gently over a piano and acoustic guitar lilt. The EP finishes with a full-throttle grungey-blues, raunchy organ, bass and drum rocker with Black Swan.
"Be Careful What You Wish For" is a collection of rock songs, that boldly, and confidently takes steps and liberties into the arenas of dirty-rock, show tune, ballad, indie-garage, and punk. The songs aren't different songs/styles being played by the same band–rather, the EP showcases a band imprinting its own stamp on different sounds in a cohesive and enjoyable way. A sound that has become unique to Those People.